If a surname is shown in BLUE, click on it to check for further info
If you have any amendments for this picture please see below
Pic Ref: 60009/107
1960 - 4th year - Mr. Chivers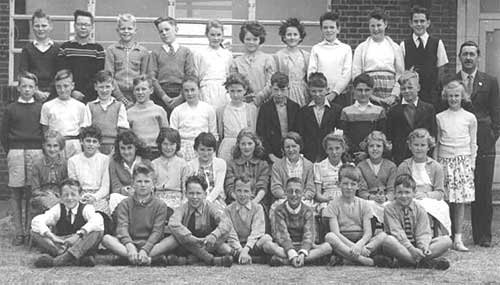 To see a bigger version click here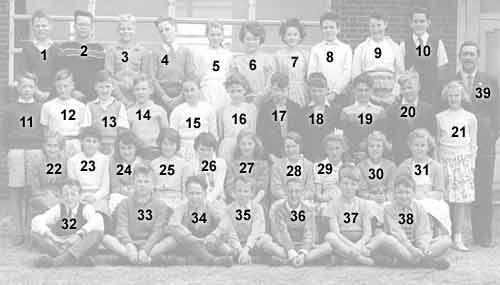 Ashley Briscoe has provided the names of the roads where many of the pupils lived. This may help your memories!
Peter Finch - Aldborough Road South
Douglas Hopwood
–
David Warricker
–
Pamela Reeve - Aldborough Road North
-
John Hughes - Oaks Lane
Pauline Marshall - Oaks Lane
David Chamberlin - Suffolk Road area
John Frankland - Somerville Road
Terry Hunter - Oaks Lane
Graham Prince - Eastern Avenue
Ernest Collins - Chiltern Road
–
–
one of the Humphries twins from Southdown Cresecent, probably Lawrence?
John Watson - Rochford Avenue, Chadwell Heath
–
Christopher Wilson- possibly
Ann Sibley- possibly
–
–
Jean Hudson - Oaks Lane
Pamela Klintworth - Oaks Lane
–
Jennifer Burke- possibly
–
Ann Patten
–
Eileen or Ellen Barber
David Kidd - Suffolk Court
Stuart Freeman
? Osbourne - Northdown Crescent
John Armstrong - Leyswood Drive
Ashley Briscoe - Oaks Lane
Alec Cutter - Whites Farm
–
–Mr Chivers

With thanks to John Watson
Amendment thanks to: Susan Prince, Ashley Briscoe, George Woods
Before emailing photos, please take a look at the Help Page for guidance.
THE FORM BELOW WILL PROBABLY NOT WORK ON A MOBILE DEVICE.
PLEASE USE A LAPTOP OR DESKTOP COMPUTER THAT SUPPORTS ADOBE FLASH.
SUBMIT AMENDMENTS HERE
There are now over 300 photos on this site and it can take a long time to find the one you mean with just a title!
To submit identifications or amendments to a picture:
Note the position number/s of the person/s identified
See if the person is in the Contact List and, if they are, then note down their ID number.
Note down any other info
Complete the form below and click on the SUBMIT FORM button.
Picture Ref Number: 60009/107
Picture Title: 1960 - 4th year - Mr. Chivers
COPY (select then CTRL+C) and PASTE (CTRL+V) THE PICTURE REFERENCE AND TITLE SHOWN ABOVE IN RED INTO THE YELLOW BOXES BELOW
Form Object
IF YOU CAN'T SEE THE FORM THEN CLICK HERE TO EMAIL THE DETAILS
Any names displayed are only as accurate as information sent in.
No guarantee is given of the veracity of any facts shown