Welcome to the William Torbitt School website for former pupils and staff
If a surname is shown in BLUE, click on it to check for further info
If you have any amendments for this picture please see below
Pic Ref: scrap063/72
Concert Programme 8th July 1954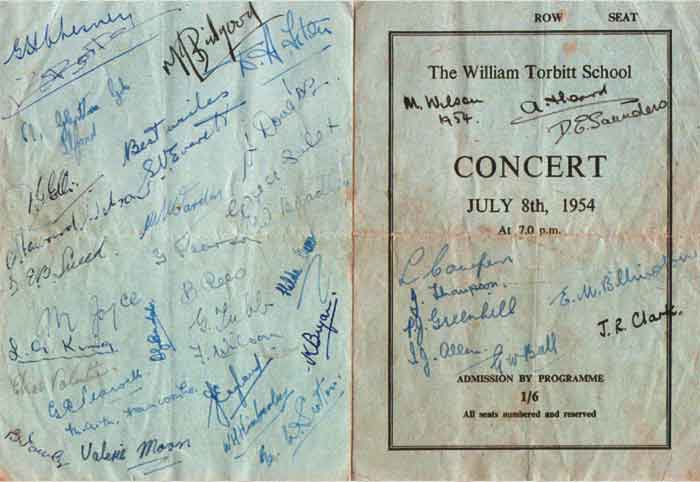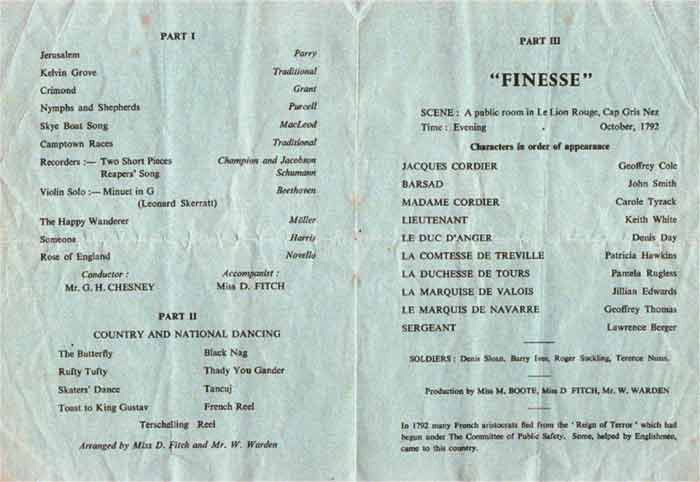 From Robin Stafford:
I just sighted the programme for the school play 'Finesse' (Scrapbook ref 063) and saw a whole bunch of names I recognised, including the Sergeant (Roger Suckling) who was a close mate of mine at that time. Well, I was the bloke who provided the bread that they all hoed into in the inn for dinner and I also helped Mr Bidgood with the sound effects.......................footsteps running, horses galloping and a pistol shot among other things !!! So at last I have seen some connection between myself and W.T. and can rest easy that I wasn't dreaming it. That is also the concert that the record company came by and recorded the recorder music on the programme.
Maybe NOW somebody will remember me and I might even appear on some photos !!!*smile*
Very best wishes and take care - Rob Stafford
with thanks to Noel Grimmett
Amendment thanks to:
Before emailing photos, please take a look at the Help Page for guidance.
Any names displayed are only as accurate as information sent in.
No guarantee is given of the veracity of any facts shown
Registrations, memories and postbag and other updates are carried out by volunteers and may be delayed.
Thank you for your patience.
If you send email, please ensure that "WILLIAM TORBITT" is in the subject line so that your mail does not get caught in a spam trap.
IF YOU HAVE RECEIVED SPAM EMAIL WITH WILLIAM TORBITT AS A RETURN ADDRESS BE ASSURED IT IS NOT FROM OUR IP ADDRESS.