If a surname is shown in BLUE, click on it to check for further info
Pic Ref: scrap041/50
1951/2? Birthday Party - Suffolk Road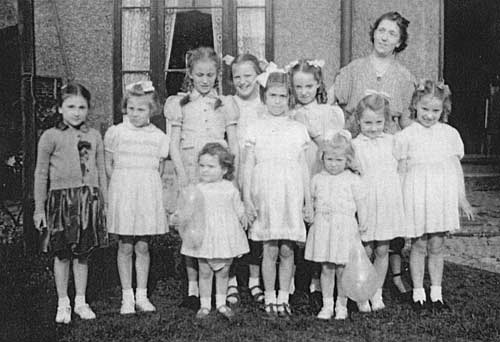 Click to see us in 2007!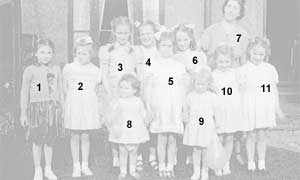 8. Pauline Kendall (Oh my God, I'm showing my knickers!)
This was a birthday party for Barbara Roberts in Suffolk Road - those "big girls" were so nice to invite us little ones to their parties weren't they! (or maybe their mothers made them!)
No. 3 is Angela Forster (not at WT) - No. 7 is Mrs Roberts.

with thanks to Barbara Roberts
Amendment thanks to: Gillian Spink
Before emailing photos, please take a look at the Help Page for guidance.
THE FORM BELOW WILL PROBABLY NOT WORK ON A MOBILE DEVICE.
PLEASE USE A LAPTOP OR DESKTOP COMPUTER THAT SUPPORTS ADOBE FLASH.
SUBMIT AMENDMENTS HERE
There are now over 300 photos on this site and it can take a long time to find the one you mean with just a title!
To submit identifications or amendments to a picture:
Note the position number/s of the person/s identified
See if the person is in the Contact List and, if they are, then note down their ID number.
Note down any other info
Complete the form below and click on the SUBMIT FORM button.
Picture Ref Number: scrap041/50
Picture Title: 1951/2? Birthday Party - Suffolk Road
COPY (select then CTRL+C) and PASTE (CTRL+V) THE PICTURE REFERENCE AND TITLE SHOWN ABOVE IN RED INTO THE YELLOW BOXES BELOW
Form Object
IF YOU CAN'T SEE THE FORM THEN CLICK HERE TO EMAIL THE DETAILS
Any names displayed are only as accurate as information sent in.
No guarantee is given of the veracity of any facts shown