If a surname is shown in BLUE, click on it to check for further info
If you have any amendments for this picture please see below
Pic Ref: scrap067/76
1946? Barbara Rawden's 10th Birthday Party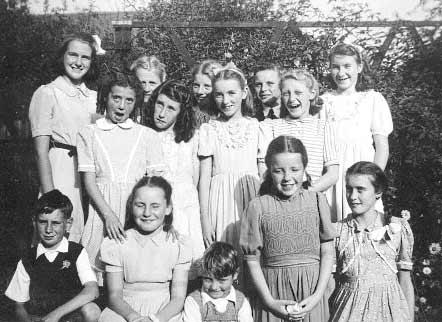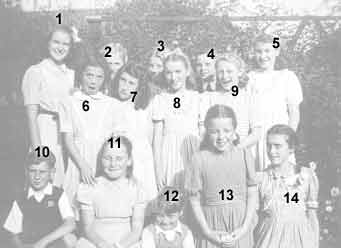 Most of these were pupils at William Torbitt
These children have been identified but it is not known if they were WT pupils:
5 shirley fleming (Barbara's cousin)
10 colin fleming (Barbara's cousin)
With thanks to Barbara Rawden
Amendment thanks to: Brenda Box, Barbara Rawden herself!
Before emailing photos, please take a look at the Help Page for guidance.
THE FORM BELOW WILL PROBABLY NOT WORK ON A MOBILE DEVICE.
PLEASE USE A LAPTOP OR DESKTOP COMPUTER THAT SUPPORTS ADOBE FLASH.
SUBMIT AMENDMENTS HERE
There are now over 300 photos on this site and it can take a long time to find the one you mean with just a title!
To submit identifications or amendments to a picture:
Note the position number/s of the person/s identified
See if the person is in the Contact List and, if they are, then note down their ID number.
Note down any other info
Complete the form below and click on the SUBMIT FORM button.
Picture Ref Number: scrap067/76
Picture Title: 1946? Barbara Rawden's 10th Birthday Party
COPY (select then CTRL+C) and PASTE (CTRL+V) THE PICTURE REFERENCE AND TITLE SHOWN ABOVE IN RED INTO THE YELLOW BOXES BELOW
Form Object
IF YOU CAN'T SEE THE FORM THEN CLICK HERE TO EMAIL THE DETAILS
Any names displayed are only as accurate as information sent in.
No guarantee is given of the veracity of any facts shown