Welcome to the William Torbitt School website for former pupils and staff
If a surname is shown in BLUE, click on it to check for further info
If you have any amendments for this picture please see below
Pic Ref: scrap001/13
Xmas Party - 1954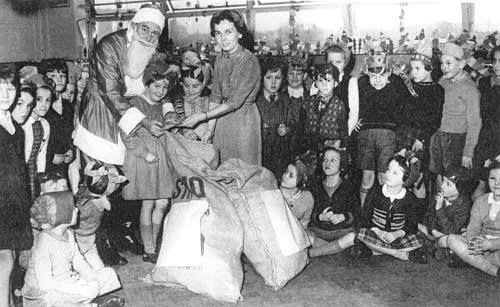 To see a bigger version click here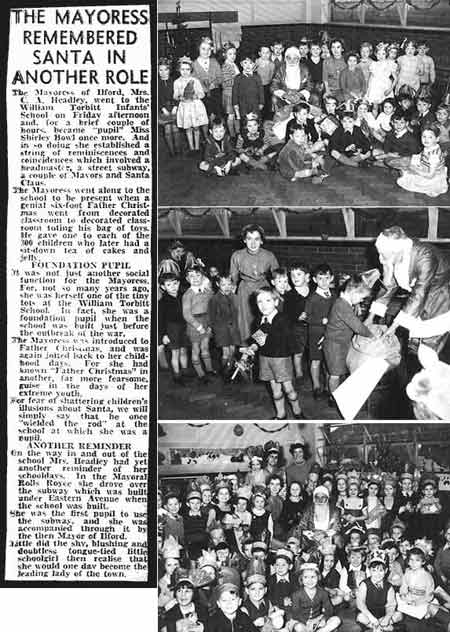 I think we can pick out Janic Archer, Pauline Jennings, Lois Gunning,  Anne Sheerin, Linda Bailey,  Graham Pfaff, Geoffrey Gillon, Nicholas Holmes, Ann Medland, John Fairweather, Kay Emery and Pat Dixon -  is that Josephone Pazera lurking at the back? I think that Anthea Hay is just along from Lois but Ann Medland thinks it's Jill Hammond....... we await correction or confirmation!
The lady handing out the presents with Santa is, allegedly, the Lady Mayoress
**From Anthony Glynn: I can confirm that the lady in the Xmas party - 1953 (scrap001) is indeed the Lady Mayoress (Shirley Headley) Her daughter, Philippa, went to the school a year ahead of me. I think the year of this photo maybe Christmas 1954, as Shirley was 'in office' during 1954/55.
Shirley Headley has rung in to confirm that it indeed her in the picture. She was herself in the first school intake (then Shirley Bowl). She tell us that Santa is Mr Train, the Headmaster.
Thanks to Kay Emery
Amendment thanks to:
Before emailing photos, please take a look at the Help Page for guidance.
Any names displayed are only as accurate as information sent in.
No guarantee is given of the veracity of any facts shown
Registrations, memories and postbag and other updates are carried out by volunteers and may be delayed.
Thank you for your patience.
If you send email, please ensure that "WILLIAM TORBITT" is in the subject line so that your mail does not get caught in a spam trap.
IF YOU HAVE RECEIVED SPAM EMAIL WITH WILLIAM TORBITT AS A RETURN ADDRESS BE ASSURED IT IS NOT FROM OUR IP ADDRESS.