Welcome to the William Torbitt School website for former pupils and staff
If a surname is shown in BLUE, click on it to check for further info
If you have any amendments for this picture please see below
Pic Ref: scrap042/51
1953 - Coronation Day Fancy Dress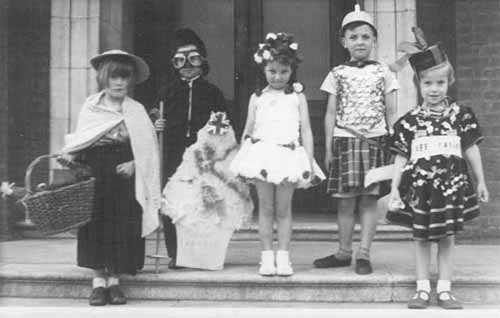 Taken on Coronation Day1953 on the school steps. Sandy is in the middle having won first prize in a fancy dress competition. She recalls that she went home straight after the photo call to watch the coronation on a neighbour's television. Brenda Sigston is on the far right.
Photo with thanks to Sandy Blackmun
Amendment thanks to:
Before emailing photos, please take a look at the Help Page for guidance.
Any names displayed are only as accurate as information sent in.
No guarantee is given of the veracity of any facts shown
Registrations, memories and postbag and other updates are carried out by volunteers and may be delayed.
Thank you for your patience.
If you send email, please ensure that "WILLIAM TORBITT" is in the subject line so that your mail does not get caught in a spam trap.
IF YOU HAVE RECEIVED SPAM EMAIL WITH WILLIAM TORBITT AS A RETURN ADDRESS BE ASSURED IT IS NOT FROM OUR IP ADDRESS.