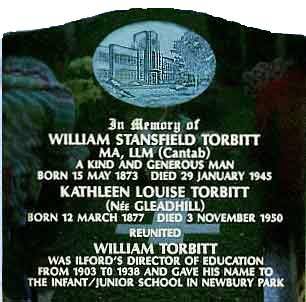 From the Ilford Recorder - Thursday May 22nd 2003:
NEW MEMORIAL UNVEILED AT GRAVE OF FORMER EDUCATION BOSS
Family, local dignitaries and former pupils gathered to dedicate a memorial to a man who played a leading role in children's education for 35 years.
A magnificent granite stone marking the spot where William Stansfield Torbitt lies was unveiled at Barkingside Cemetery in Longwood Gardens, Barkingside. on Thursday - 130 years after he was born,
The gravestone replaces the dilapidated stone which had stood at the site since he died in 1945.
Etched on the new headstone is a picture of William Torbitt Primary School and a reference to his post as director of education from 1903 to 1938.
Cllr Ronnie Barden. chairman of area committee four which donated £1,000 towards the cost of the new memorial, said: "We are delighted to do this. It is of great historical significance.
"The grave now stands out. It is great to see his relatives here."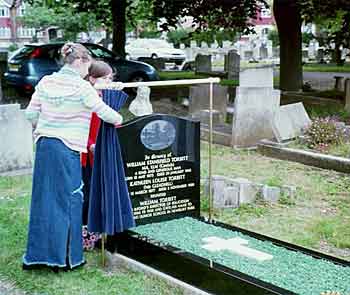 Mr Torbitt's grandson, also called William, was unable to attend but his wife Truda and two children Charlotte. 11, and Anna, eight, flew over from Namibia, Africa, for the occasion.
The girls laid flowers at the site and Mrs Torbitt read out a speech from her husband.
Mr Torbitt wrote that his grandfather devoted his entire working life to education and described the school in Eastern Avenue, Newbury Park, as his "living memorial".
He continued: "I hope this new memorial adds a little touch to local history and provides a point of interest to any who may pass this place."
The family paid tribute to former pupil Geoffrey Gillon whose dedication to his former school
and efforts to secure funds, ensured the new grave was erected.
Mr Gillon said he was pleased with the mason's work and that so many people had turned up to the ceremony.
"If the stone just had his name on it some people may have said 'was he something to do with the school?' but people will no longer have to ask," he said.
"All the information is there for everyone to see."
Redbridge Mayor and school governor, Cllr Vanessa Cole said:
"It is nice that good things are remembered."
Headteacher June Hill said she was very impressed with the stone and said it was fitting that his grave was restored.
Jeff Sawyer, who was a pupil at the school in 1950, was also present along with his wife Pat. who works there.
Their two daughters were also pupils.
Ex-pupils have set up a website – www.williamtorbitt.co.uk.