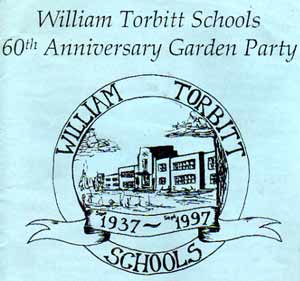 Click HERE for some extracts from the Reunion Programme
including extracts from the school log book

A reunion of former pupils from 60 years of a school's history was a daunting prospect. Many had moved from the area and did not see the publicity about the event. Nevertheless, on a hot and sunny 20th June 1998 hundreds of people filled the classrooms, hall and playing field of William Torbitt School in Ilford, Essex.

Pupils from the school had been scattered far and wide in both their secondary education and their adult lives and few had kept in touch with their friends from Infant and Junior school. It was, therefore, a pleasure to hear the buzz of conversation and amazed recognition as people came face to face with long lost childhood classmates.

Naturally, people were curious about how their friends looked, what they had done with their lives and (in the case of the men - how much hair they still had!). They also came to re-visit their memories of the classrooms (how tiny were those desks?) and, in some lucky cases to meet up with their teachers. This was a special pleasure since we had all benefited from their patient efforts.

It was a somewhat surreal experience with unexpected memories, confusion and laughter. All in all a day to remember.
Registrations, memories and postbag and other updates are carried out by volunteers and may be delayed.
Thank you for your patience.
If you send email, please ensure that "WILLIAM TORBITT" is in the subject line so that your mail does not get caught in a spam trap.
IF YOU HAVE RECEIVED SPAM EMAIL WITH WILLIAM TORBITT AS A RETURN ADDRESS BE ASSURED IT IS NOT FROM OUR IP ADDRESS.